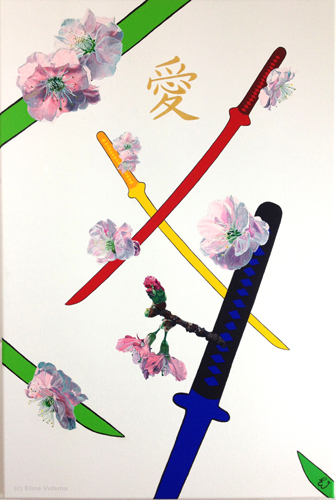 To all sentient beings: love is stronger than war
Het heeft even geduurd, mijn nieuwe schilderij. Het is de eerste keer dat ik in een wat groter schilderij de realistische delen met olieverf heb geschilderd. Dat was even wennen. Het thema dit keer lijkt Japans, maar met een universele boodschap: liefde is sterker dan oorlog. Toen ik vorig jaar met dit doek begon kon ik me niet voorstellen hoe actueel het zou zijn bij het voltooien. Het lijkt deze zomer wel alsof oorlog dichterbij en gruwelijker is dan we in tijden hebben meegemaakt. Dat is mijn eigen, Nederlandse perspectief natuurlijk, maar toch. Er is veel aan de hand.
De Japanse beeldcultuur vind ik mooi: Strak, elegant en puur, zo zou ik het omschrijven. Dit schilderij is losjes gebaseerd die traditie. De sakura, kersenbloesem, symboliseert hier de liefde en de katana's, samoeraizwaarden, oorlog en haat. Hoe hard de zwaarden ook zijn, de bloesem is sterk genoeg om er uit te groeien.
Als individu op deze planeet voel ik me soms wat hulpeloos tegenover zoveel wreedheid en onrechtvaardigheid. Wat geld voor een goed doel hier, een handtekening op een petitie daar. Maar ik blijf altijd geloven in de kracht van liefde. Als individu of met z'n allen samen, vooral niet opgeven. Liefde is sterker!
It's taken a while, the making of my new painting. It's the first time I used oil paint for the realistic parts in a bigger painting. It took me some time to get used to it. The theme this time seems Japanese, but with a universal message: love is stronger than war. Last year, when I took on this painting, I couldn't imagine how topical it would be at the completion. This summer it seems as if war is closer and more horrifying than we've seen in a long time. That's my own, Dutch perspective of course, but still. There's a lot going on.
I find the classical Japanese visual culture beautiful: clear, elegant and pure, that's how I'd describe it. This painting is loosely based on this tradition.
The sakura, cherry blossom, here symbolises love and the katanas, samurai swords, war and hatred. No matter how hard the swords are, the blossom is strong enough to grow from the steel.
As an individual on this planet, I sometimes feel helpless in the face of so much cruelty and injustice. Giving a little money here, signing a petition there. But I never fail to believe in the power of love. As an individual or all united, never give up. Love is stronger!